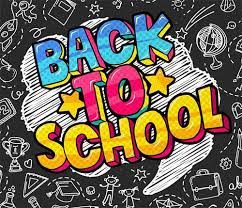 Welcome Back Families!
Summer is over and school is back in session. We're only a few weeks in but already all the teachers and students have kicked things into high gear. Pencils are sharpened, minds are expanding and friendships are forming. For the newest families and kids joining us in second grade, we welcome you, and we hope that your inaugural experience in the program is a fruitful one.
There is a lot of useful information in this edition, so please take the time to read through it all. As top line, this newsletter will highlight:
FOB August picnic recap
Teacher and staff intros and note to parents
Important Dates
Fundraiser reminders (annual giving, Amazon Smile, Ralphs) – because we need YOUR donations.
Who's who
Enjoy!
JY
(Mom of MW, Second Grader)
Back-to-School and Welcome Party
On Aug. 18, a huge number of Braddock families met at Glen Alla Park for a welcome back party organized by Friends of Braddock! New families met existing ones, and second grade parent Kateri Wang (mom of AW) organized some great ice-breaking games. The party was extremely well-attended and a great way to connect before the new year started. Special thanks to Stephanie Ripps, Nick Spark, Amy Abrams, Todd Abrams, Nagihan Unal and – as always – Lili Yen for organizing!
Teacher and Staff Intros
(Pictures from L to R)
*Please click on the individual names to read more about our staff and their classrooms*
Ms. Sosa – Magnet Coordinator
Please welcome Ms.Sosa who is replacing Joyce McClure as our Magnet Coordinator. Ms. Sosa has been with Braddock Drive for the past 26 years in various roles ranging from teaching to mentoring. The school holds a special place in her heart as she herself attended Braddock many years ago as a student.
Ms. Sosa's door is always open and she welcomes your questions and any feedback so please stop by and say hello.
Ms. Serdoncillo – Second Grade Teacher (personal note and images below directly from teacher)
Welcome to all students and parents to the 2019-2020 school year. A parent letter that outlines classroom expectations, behavior, and homework policy was sent home recently.
English Language Arts: Unit 1 is on Government At Work
Writing: Write a Journal as a Smokejumper
Math: Addition Problems & CGI Word Problem Strategies
Social Studies: Government
Reminder to Parents: Students should bring a light sweater to school everyday, as well as, healthy snacks & lunch, & plenty of water.
Ms. Hart – Third Grade Teacher
Ms. Hart is excited to welcome your kids. She will spend the first few days of school to help student get to know one another and become comfortable with various classroom routines. Her curriculum includes a robust language arts, math and science program.
Ms. Afridi – Fourth Grade Teacher (personal note directly from teacher)
The first weeks of school are all about establishing community. We have been learning about one another through community circles, games, and writing activities. We have created classroom agreements based on our core classroom values: respect, integrity, honesty, empathy, diversity, and friendship. We will be exploring our identities including where our families come from within the coming weeks as well. We will begin reading workshop and writing workshop next week by learning our routines for both workshops. The beginning of the year also involves a lot of pre-assessments to see the knowledge our students already come with as they enter fourth grade. A couple of beginning of the year, identity, and routine read alouds include: Thank You Mr. Falker, Ms. Malarkey doesn't Live In Room 10, The Name Jar, Rosie Revere Engineer, What if Everybody Did That, My Mouth is A Volcano, The Boy Who Loved Math, and many more! We will begin our first whole class novel in a couple weeks as well, something to look forward to!

Mrs. Benitez – Fifth Grade Teacher (written by student JT – please see images below from the first day of school, including students LA and AU leading the school in the Pledge of Allegiance with Principal Lopez).
This year in fifth grade our class will be participating in many activities, including island-themed STEM projects, where we will have to help someone survive on an island by using materials to get them off and help them live. We started our first island stem project where you have to build a hut that could withstand the blow of a hairdryer. In the first week we had a math pre-assessment to see what we understood already. Also math related, we completed Noetic math puzzles in groups.
On the first Friday we also had a vocab/word study test. For the seating arrangement, two students share one desk and in the morning one of the partners sits at the desk while the other sits at one of the rugs. Then, after recess, they switch and after lunch they both have flexible seating. There are six rugs to choose from and all named after various schools. Another new addition is the use of a personal reading pillow when you're on the rug.
This year we will be doing read alouds to a great many novels and will be answering questions to go along with each. In the first week though instead of starting a novel we read a small book called Each Kindness and had a question about the book for homework. In all this year we will read great novels, do creative thinking in STEM, solve Noetic math problems, sit in comfortable chairs, and do so many more fun things.
The 5th grade is looking forward to an awesome year and we are thankful for Mrs. Benitez!!
Don't Forget – Important Dates!
Friday, Aug. 30 – No School, Admissions Day
Monday, Sept. 2 – No School, Labor Day
Friday, Sept. 6 @ 8:15am – FOB Meeting, Parent Center
Tuesday, Sept. 10, 4:30-6pm – Back-to-School Night
Friday Sept. 27 – JPL speaker: Mission to Mars, Grades 3-5
Saturday Sept. 28, 9am-1pm – Braddock Gardening Day
Monday Sept. 30 – No School
Friday Oct. 4 @ 8:15am – FOB Meeting, Parent Center
Wednesday Oct. 9 – No School
Annual Giving is the main FOB fundraiser for the school year. FOB is our gifted magnet program's 501(c)3 that is critical to providing the programs, field trips, supplies, Magnet TA and basic essentials our kids need to thrive in this type of atmosphere. To be clear, these resources are NOT provided by the state, district or school. However, thanks to direct donations from parents like you, we are able to fund our dedicated Magnet TA(s), specialized educational curriculum like Scholastic News, BrainPop, and SumDog, technology in the classroom, teacher development programs, field trips, and much more—all critical and essential tools we will absolutely lose if we do not raise the needed funds. If we do not meet our budget, we lose valuable resources—end of story.
Our minimum fundraising goal this year is $60,000, and the only way we will meet that goal is with 100% participation. We need a donation to be made on behalf of each and every student that attends the school. The more we raise, the more our students benefit! We hope every family is able to contribute—no amount is too small, and we strive for 100% participation among all Braddock Gifted Magnet families. If we raise an average of $1,000 per family, we will be able to provide additional resources such as elective classes and a mobile computer lab.
There are two easy ways to make your Annual Giving donation:
1. PayPal Giving Fund You do not need a PayPal account and can pay with a credit card. There are no fees to you, and the tax receipt is immediately available (plus credit card points/miles!). Please keep the box "Share my name and email with this charity" checked
2. By check payable to "Friends of Braddock" which can be either 1) mailed to us Friends of Braddock, 4711 Inglewood Blvd, Culver City, CA 90230, 2) brought to our FOB Parent meeting, or 3) sent to school in the blue envelope attached to the Annual Giving flyer via your child's homework folder.
You should have received an email already from Amie Luke on Aug. 22 with more details like the incentives we give to all those who donate!!
We probably all use Amazon right? Well if you do, and you're not using Amazon Smile, you are costing our school some valuable money! To date, we've earned more than $700 in the last three months thanks to parents like you who remember to use Amazon Smile when you shop.
It's so easy – especially since I've hyperlinked it three times here already, four if you include the Amazon logo – free money folks!
https://smile.amazon.com/gp/chpf/dashboard/ref=smi_se_mityp_dshb_smi
Turn your groceries into $$$ for our school – Ralphs/Top Valu/eScrip
Ralph's Community Contribution Program
It's Easy… just shop, swipe your card & earn!
Begin raising money for Braddock Gifted Magnet just by shopping at RALPHS and FOOD4LESS. It's the easiest way for you to contribute to the school without spending any time or money! Once enrolled, Ralphs donates a percentage of all your shopping throughout the year to Braddock Gifted Magnet. Enrollment has no impact on your fuel rewards and takes less than 1 minute via Ralphs website or by phone, so please don't delay!
Enroll via phone: Enroll by following the steps below or by calling 1-800-443-4438 and providing our organization ID #: 92854
Enroll online: Register on www.ralphs.com then go to https://www.ralphs.com/account/communityrewards/ (or "Savings & Rewards -> Ralphs Community Contribution Program). Use SCHOOL ID: 92854 or FRIENDS OF BRADDOCK GIFTED MAGNET SCHOOL to search for our program.
Here's the directory for Who's Who this school year, 2019-2020:
FOB Officers:
Lili Yen, President
Amie Luke, Treasurer
Tracy Tan, Secretary
Myshell Tabu, Assistant Secretary
Room Parents:
Kateri Wang, Second Grade
Priyanka Merchant, Third Grade
Tzippy Rav-noy, Fourth Grade
Priya Nainav, Fifth Grade