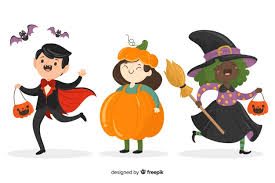 This October, Braddock Elementary brews up some laughter and fun for a trick-or-treat filled month! In this edition, our coverage will include:
Fundraising updates
Staffing updates
Classroom highlights
Enrichment Works assembly recap
FOB Social – UCLA Planetarium visit
College Awareness Month
Important Dates/upcoming events
Halloween safety tips
Remember, the monthly newsletter is always open to your feedback, advice and suggestions, so always feel free to reach out here directly If you have any classroom-specific questions, please reach out to your room parent directly.
Happy Halloween,
Jean Yoo
The numbers are in and it's a close race. The good news is that the annual giving drive is not yet over, so if you haven't donated yet, you've still got some time.
Remember: the goal is to raise $60,000 this school year BUT $100,000 for our wish list items (listed below).
To put things into perspective, if everyone donates an average of $1000 per student, we can meet this goal. Also, if we meet this goal, there is NO additional fundraising for the rest of the year!
Need help setting up a payment plan? Email the FOB president or Treasurer for questions.
Here's where the classes stand – and remember, the winning class gets a pizza party, so if you haven't donated yet, please do it for your class! For the purpose of this contest only, this race is based on PARTICIPATION, not AMOUNT.
Grade 2: 53% participation
Grade 3: 77% participation
Grade 4: 59% participation
Grade 5: 48% participation
Average total participation: 58.49%
Total sum raised: $41, 921
What we risk losing if we don't meet our goal:
TA – 2/3 budget. Having TA's is the #1 request from our teachers. They are NOT paid for by LAUSD, the state, etc. They are 100% paid for by our funds raised by our annual drive.
Special curriculum per teacher request (curriculum + technology) – 1/4 budget.
Technology – Some desktops computers (2nd/3rd), some tablets (4th/5th)
Field Trips – buses are not free, so if we don't have the funds, we don't get the trip!
Classroom supplies: special furniture, classroom sets of books, paper and ink.
Please meet our newest TA's: Ms. Mercey Rodriguez and Ms. Azhley Hernandez. If you see them around, make sure to say hello!
About Ms. Rodriguez:
Currently Ms. Rodriguez is a full-time student at California State University, Dominquez Hills, where she is working on a dual program to earn her K-12 teaching credential and Master's degree in Educational Curriculum.
She is very excited to be working here and looks forward to learning a lot from our students. Please say hello the next time you see her!
About Ms. Azhley Hernandez:
Ms. Hernandez is a senior at the University of California, Los Angeles (UCLA), studying Psychology, Sociology, and Education Studies. Raised in Arizona, she now resides in sunny California with her parents, three sisters, and their pug and two turtles.
In her free time, she enjoys playing volleyball and hanging out with her friends. In the near future, Ms. Hernandez hopes to become a school psychologist. She is also bilingual in Spanish and English.
Classroom update from Ms. S:
Language Arts: Government Unit is completed. We're off to the next unit which is Characters Facing Challenges. We will learn how story characters and real people deal with challenges and what they do to overcome them. We will read different Cinderella stories from various cultural backgrounds such as Korean, Chinese, Native American, Irish, and Caribbean.
We learned about the sinking of the Titanic.
Math: We're learning about arrays and multiplication in the next Math chapters. We started learning about two activities: Choral Counting and Which One Doesn't Belong – both strengthen our number sense skills and analytical thinking.
Social Studies: We're finishing up Chapter Four on Bullying and Importance of Rules
Art: We finished an art project inspired by Yeh Shen (Chinese Cinderella) through the artistry of Matisse.
We heard a famous author present his books in the auditorium
Thank you Ms. S for your update!
Classroom update from Ms. Hart:
Third grade has been working hard to complete projects. Students have completed books about themselves.
Poetry and an informational report have been completed and have centered on our life science themes of biomes and animal classes.
Sumdog online learning began in August in math, reading and spelling. Students can continue Sumdog from home.
The class is also currently working on biome comic strips, with art produced in Painter Pro software and assembled in Comic Life software.
We are almost finished with our first novel, The Tale of Despereaux, and have begun read-throughs of our musical for this year, Into the Woods.
Math has focused on estimation strategies and multiplication. This month we will begin our work in CodeCombat, learning to code in Python.
Classroom update from Ms. Afridi:
With Halloween coming up, room 9 has some excited activities planned including a Spirit Week with themed days as well as a candy math activity. Please stay tuned for these surprises ahead.
1) Reading: Refugee (historical fiction); we are reading our first novel of the year, Refugee, which is a historical fiction story that follows the story of three different refugees from different periods of history
2) Writing: We will be writing a historical fiction story
3) Math: Students are going to continue working on division and multiplication problems incorporating base 10 concepts and place value with large numbers
4) Social Studies: We have been using geography as an introduction into our social studies concept of California and why people moved to California.
5) Science: We will be starting our unit of Earth Science
We have our first field trip this month to Malibu State Park so stay tuned for an update of that next month!
Classroom update from student JT:

This month, in Ms. Benitez's classroom we did another STEM project by building a bridge to hold an eraser. We are currently finishing our social studies project about Native American tribes. As a class we are revising and editing our personal narrative writing and are coming out with our final drafts soon. In math, we are finishing our unit on base 10, long dividing, and using algorithms to do multiplication. This has been a big first full month of the school year in this class.Also, the FOB social to UCLA planetarium was really fun. The speaker talked about all the basics of our solar system, including the planets, possible life on Mars, and moons. Something interesting we learned was about possible life in the universe and about black holes. Something surprising was that the star Beetlejuice is in Orion.
Our third, fourth and fifth grade classes had an Enrichment Works assembly in September, made possible by an arts grant.
Actor and UCLA professor Dan Belzer portrayed Irving Berlin, America's favorite songwriter who created such hit classics as White Christmas, Blue Skies and God Bless America.
Kinder-Second Graders had a very special assembly also from
Enrichment Works
that featured Aesop's Fables. Set up as a two-person musical, performers Tez and Kaylee reenacted three popular fables:
The Boy Who Cried Wolf, The Fox and the Crow
, and
The Hare and the Tortoise.
Check out a clip from the assembly!
Here's another clip to check out!
On Friday, Sep. 20, FOB hosted another social for a tour of the solar system and a star show at the UCLA Planetarium. Parents, family and friends joined the students for this star-studded experience. Take a look at some pictures from the social.
This month is College Awareness Month so here are some guidelines to follow for your child.
-Every Monday wear your Braddock gear (school spirit wear or the colors of Braddock, which are black and blue.
-Every Friday is College Friday. Wear any shirts, hats or gear you have from your favorite college. You can also wear the colors of any college you choose.
-Wednesday, Oct. 23 is dress up like a professional day. Students should wear professional/dressy clothing that they might wear to a job interview when they get older.
Have suggestions or great ideas? Come share them at the upcoming FOB meetings:
Friday, Oct. 4 @ 8:15am, Parent Center
Friday, Nov. 1 @ 8:15am, Parent Center
Friday, Dec. 6 @ 6pm (contact FOB president for address)
Upcoming FOB fundraising socials:
Saturday, Oct. 5 @ 6-8pm, Game Night for all grades but limited space available! Hosted by Bret and Jen O'Connor – suggested donation of $40 per family. Look out for the official invite.
Saturday, Oct. 26 @ 3-4pm, Diwali Celebration and Fundraiser – suggested donation $50 per family. Look for more details in your emailed invitation.
Other important dates:
Friday Oct. 4 @ 8:15am, FOB Meeting, Parent Center
Friday, Oct. 4 @ 9-11am, Braddock Gifted Magnet Tour for Prospective Families
Wednesday, Oct. 9, No SCHOOL in observance of Yom Kippur
Thursday, Oct. 10, JPL Assemblies (Grade 3-5)
Wednesday, Oct.16 @ 8am, Braddock Enrichment Committee Meeting, Parent Center
Friday, Oct.18 @ 9-11am, Braddock Gifted Magnet Tour for Prospective Families
Thursday, Oct. 31 @ 12:30, Braddock Fall Parent Potluck Social + 1:30pm Braddock School-wide Halloween Parade