In order to enroll in Braddock Gifted Magnet:
You must live within LAUSD boundaries in order apply to any LAUSD Magnet Program.
The child must be eligible for 2nd-5th grade only. There is no Braddock Gifted Magnet classes in TK, Kinder, or 1st grade.
The child must meet the criteria for High Ability, Gifted, or Highly Gifted.
You MUST apply through eChoices only and within the time frame specified. The On-time Application for Choices 2023-2022 opens October 3, 2022 and closes November 18, 2022. Click here to view the digital Choices brochure, or visit the Choices webpage.
For more information please email Assistant Principal Celia Sosa, or call her at (310) 915-5977.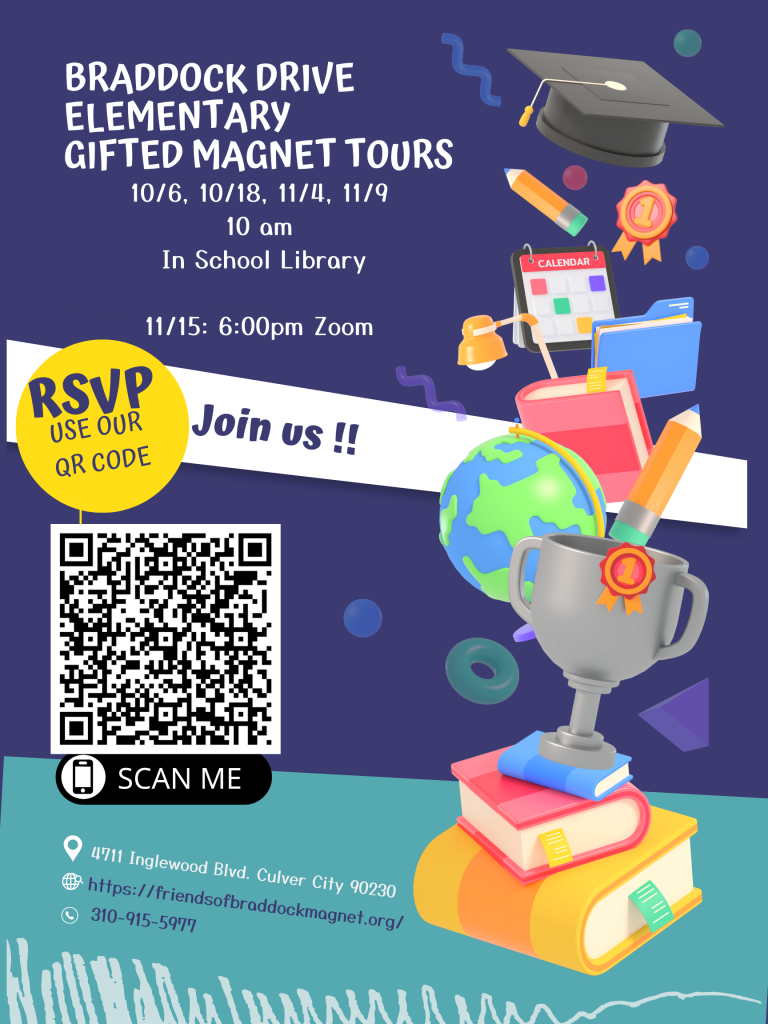 Fall 2022 School Tours for Prospective Families
In-person and online tours will be held in October and November 2022 for families interested in enrolling for the 2023-2024 school year. Please RSVP for the tour you plan to attend. Tour dates and times are as follows:
Thursday, October 6 at 10 AM (in-person)
Tuesday, October 18 at 10 AM (in-person)
Friday, November 4 at 10 AM (in-person)
Wednesday, November 9 at 10 AM (in-person)
Tuesday, November 15 at 6 PM (virtual question & answer session)